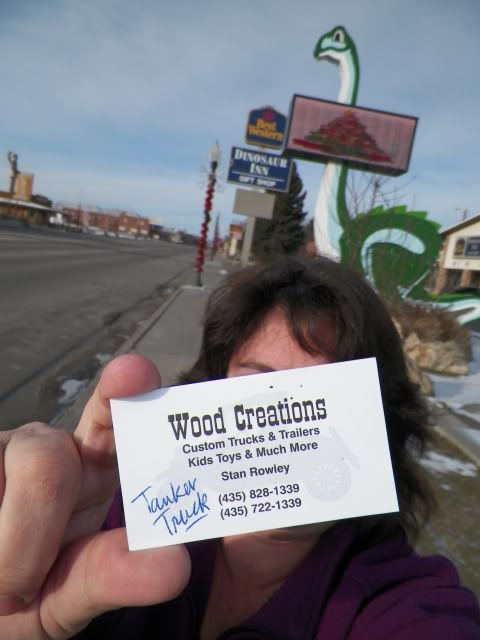 Back story: I attended Septemberfest in Rangly, CO as a vendor and took the family up there and made a weekend of it. It was fun and I sold some stuff. We had free BBQ and the playground still gets talked about. One vendor caught my son's eye and the entire festival he begged me to buy him a tanker truck from this guy. He visited the booth every hour and then came to tell me all about the tanker trucks this man makes out of wood (the area industry is oil and gas). We were barely breaking even on that trip so I had to tell him we couldn't get him a tanker truck but if he'd get me the man's business card we'd put it on his Santa List.
Fast forward to December: I seriously thought I successfully bean dipped this kid. We don't even HAVE Santa Lists! Not only had he been telling everyone who would listen that he was getting a tanker truck for Christmas he visited Santa for the very first time EVER, sat on his lap at the Chamber, and asked very specifically for a wooden tanker truck. I had an Oh Shit moment. BUT! I had saved the card. I called the guy last week. Here was my chance to make magic.
Today: After making an overnight trip northeast to Vernal, UT (Dinosaur Land) on the ruse we were visiting the newly reopened Dinosaur Quarry, leaving the children behind at the motel with their dad to go get breakfast, I met Mr. Rowley and his wife who had bless their hearts driven in from farther west to meet me, and exchanged money and pleasantries for a red, handmade, wooden tanker truck. I cannot wait to see my boy's face tomorrow morning.