Rhetta had her 100th day of kindergarten! They celebrated by counting out ten each of ten different snack foods then counting to 100 by tens. Finally they got to eat their array of snacks. Unfortunately Rhetta was home sick for her 100th day but we went ahead with the celebration. There turned out to be a lot more safe foods in the house to count then I thought. It wasn't difficult at all to find enough to count.

We had:

10 pieces of Arrowhead Mills Puffed Rice cereal
10 Orgran Outback Animals chocolate cookies
10 Private Selection Organic raisins
10 Florida's Natural Au'some Fruit Nuggets
10 Edward & Sons vegetable Brown Rice Snaps
10 pieces of Envirokidz peanut butter Panda Puffs
10 pieces of Terra Nostra Ricemilk Choco chocolate bar
10 pieces Rice Chex
10 Ener-G Wylde pretzels
10 Sunridge Farm gummy bears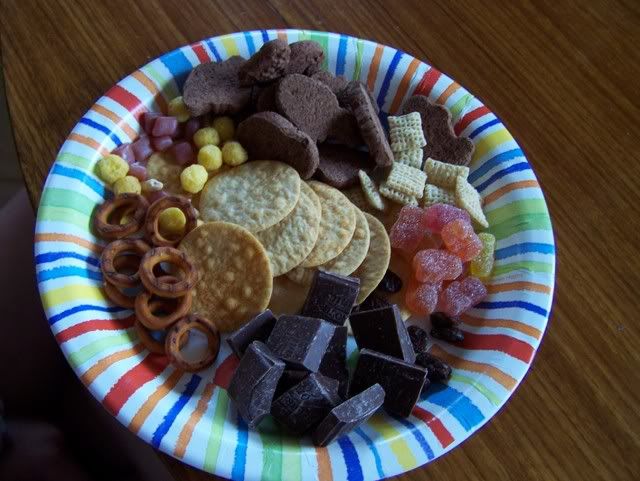 We also found other things to count like a pile of colorful buttons, a stack of books (which we tried to read but, well, that's a LOT of books), and we alternated counting first with her taking evens then odds then backwards, etc. Willon joined in by shouting each number after one or the other of said it. It was a lot of fun.
Rhetta didn't have much of an appetite but rest assured she ate the chocolate.